RevenueWell offers visibility into which of your patients currently have CareCredit credit card accounts and those individuals that are pre-approved for the CareCredit credit card!

Our partnership gives practices the ability to know if a patient has been pre-approved for the CareCredit credit card to offer you the ability to talk to them about the financing options that they have available.

RevenueWell will periodically check whether their patients are pre-approved and will display that information on the Appointments tab, the Patient Profile, and in their Messenger profile.
The following patient information needs to be present in the practice management system for a CareCredit status to be returned on the patient
First and Last Name

Date of Birth

Correct and Complete Mailing Address of the Patient

Correct and Complete Home Phone Number of the patient (Please note that providing a cell phone in the home phone field will not yield a result).

Let's get started on connecting the two!
Log into your RevenueWell portal.




Navigate to Practice Settings/Carecredit or via URL: https://p1.revenuewell.com/PracticeSettings/CareCredit




Once the page loads you will be able to access the CareCredit activation screen.





Enter your Practice's merchant ID number (Merchant ID number can be located on your CareCredit terminal or in your CareCredit welcome kit.





Once you enter the above information, click 'Connect CareCredit'.
**Please note, the activation may take up to 48 hours, once the practice is activated, you should start seeing CareCredit statuses of your patients


Once connected to CareCredit, the Quick Screen toggle must be enabled for CareCredit statuses to be displayed:




The Care Credit icon will appear in other areas of RevenueWell - on the Patients Tab as seen below: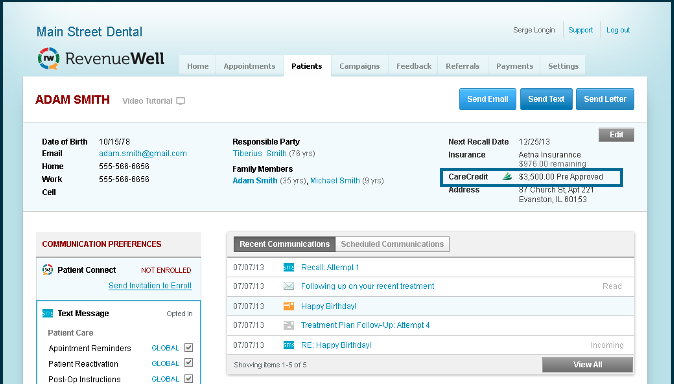 The icon will also appear on the Appointments Tab as seen below: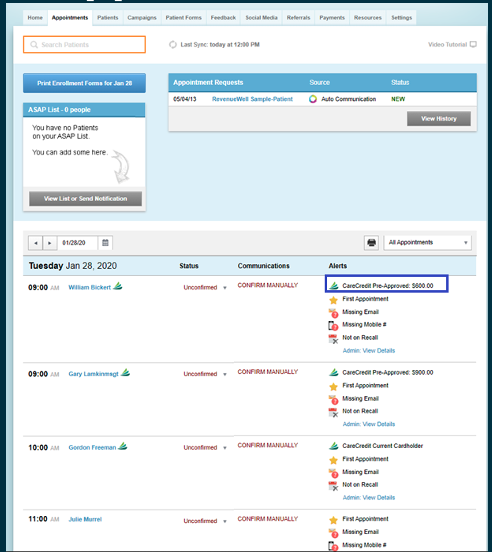 If the patient already has a CareCredit card, they will be listed as a current cardholder: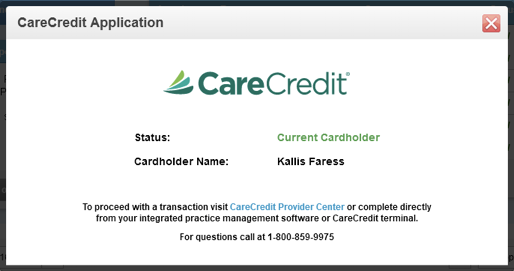 This can also be seen on the Appointments Tab as seen below: