NOTE: If you do not have your iPad set up to install updates automatically, you will need to manually update your RevenueWell Forms app to use this new feature!
When a family visits your practice, they can be checked in at one time via the iPad to begin or finish their forms. 
You can log into Forms on the tablet and then select "Group Check In" in the upper right of the appointments screen; the screen will change to the patient selection view: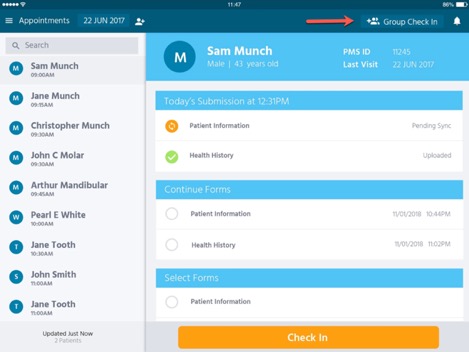 You will need to select 2 or more patients for the "Group Check-In" feature to be enabled. If a person is not listed, they need to be added as a new appointment. This step needs to happen from either the PMS or by clicking the new patient button on the appointment page of the Forms app: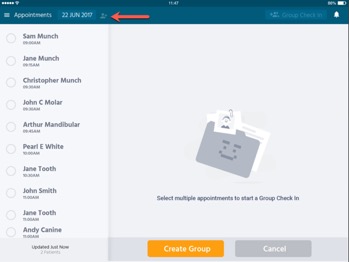 The orange "Create Group" button at the bottom of the page will be grayed out until you have selected at least 2 patients: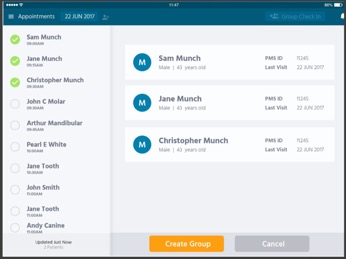 If a patient has a forms session in progress, a modal will appear asking you:
"This patient already has a forms session in progress.  Adding the patient to a group will unlock the session.  Do you wish to proceed?"
Clicking "Yes" will unlock the forms session and the group will be created.

Clicking "No" will bring the user back to the group selection.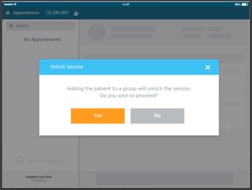 When Create Group is clicked, RevenueWell will indicate the members of the group by connecting them as shown in the screenshot below:
The group will always be brought to the top of the column and sorted according to appointment time.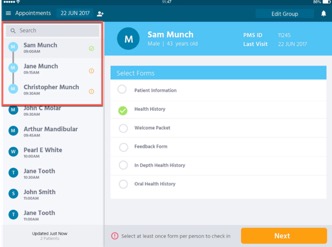 After selecting the forms and clicking Check-In, the iPad will land on the Family Session Review which shows all forms for each person that have been selected.
Clicking Back will bring you to the Forms selection screen for the last patient they were viewing.
Clicking Edit Forms will take you back to the patient to be able to edit their selections.

Clicking "Check In" again and land back on the confirmation screen.

Clicking Proceed from the Group Check In Review will land you on the "Forms to Complete Today" page for the patient.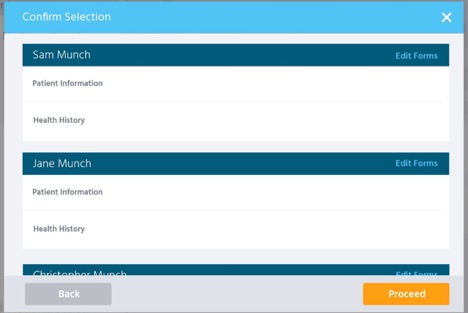 Once you have chosen all of the Forms that you need each patient to complete, you can choose to "Check In" that Family, per the example below: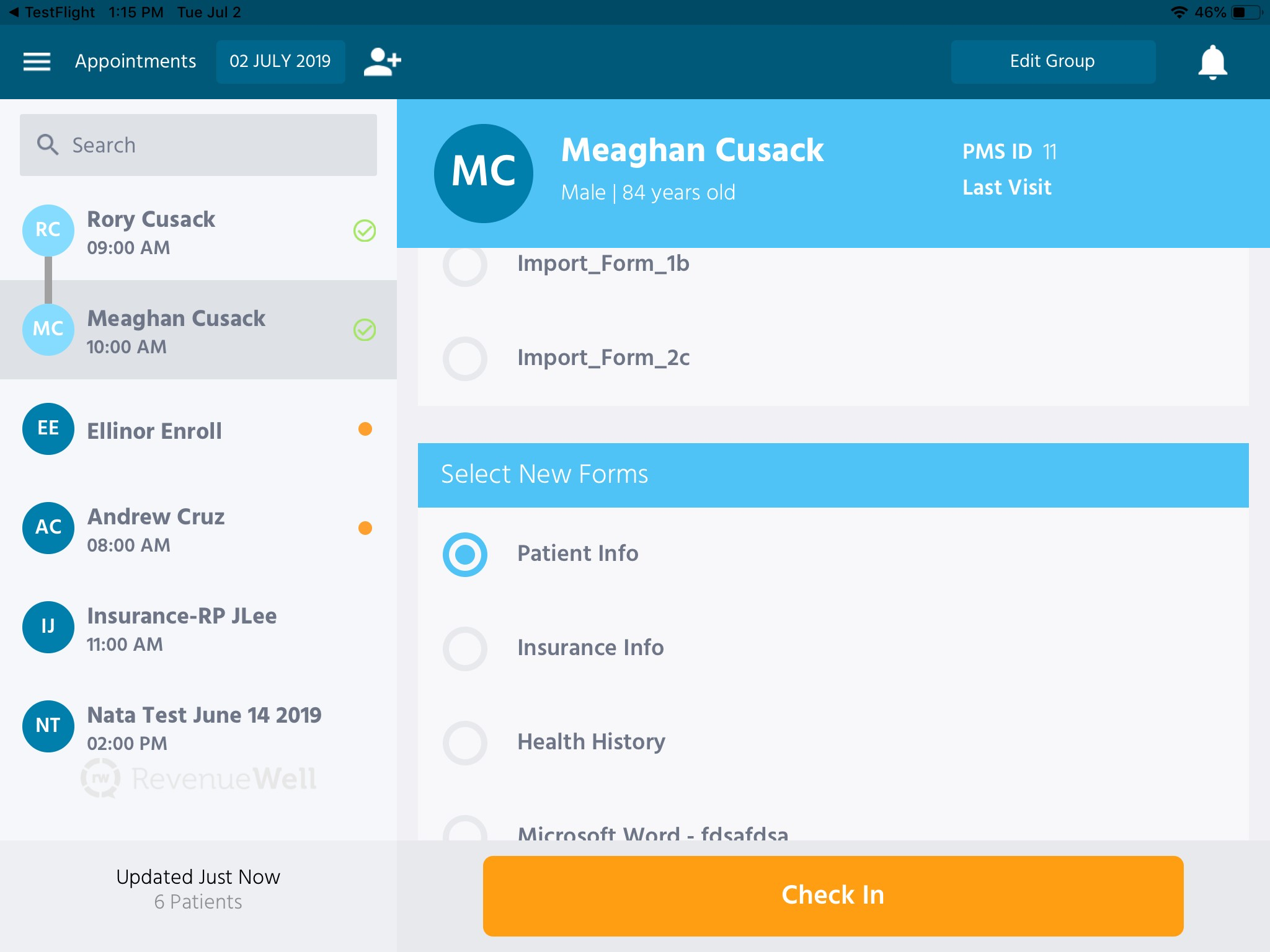 The welcome message will say the following to align with the family session on the "Forms to Complete Today" page: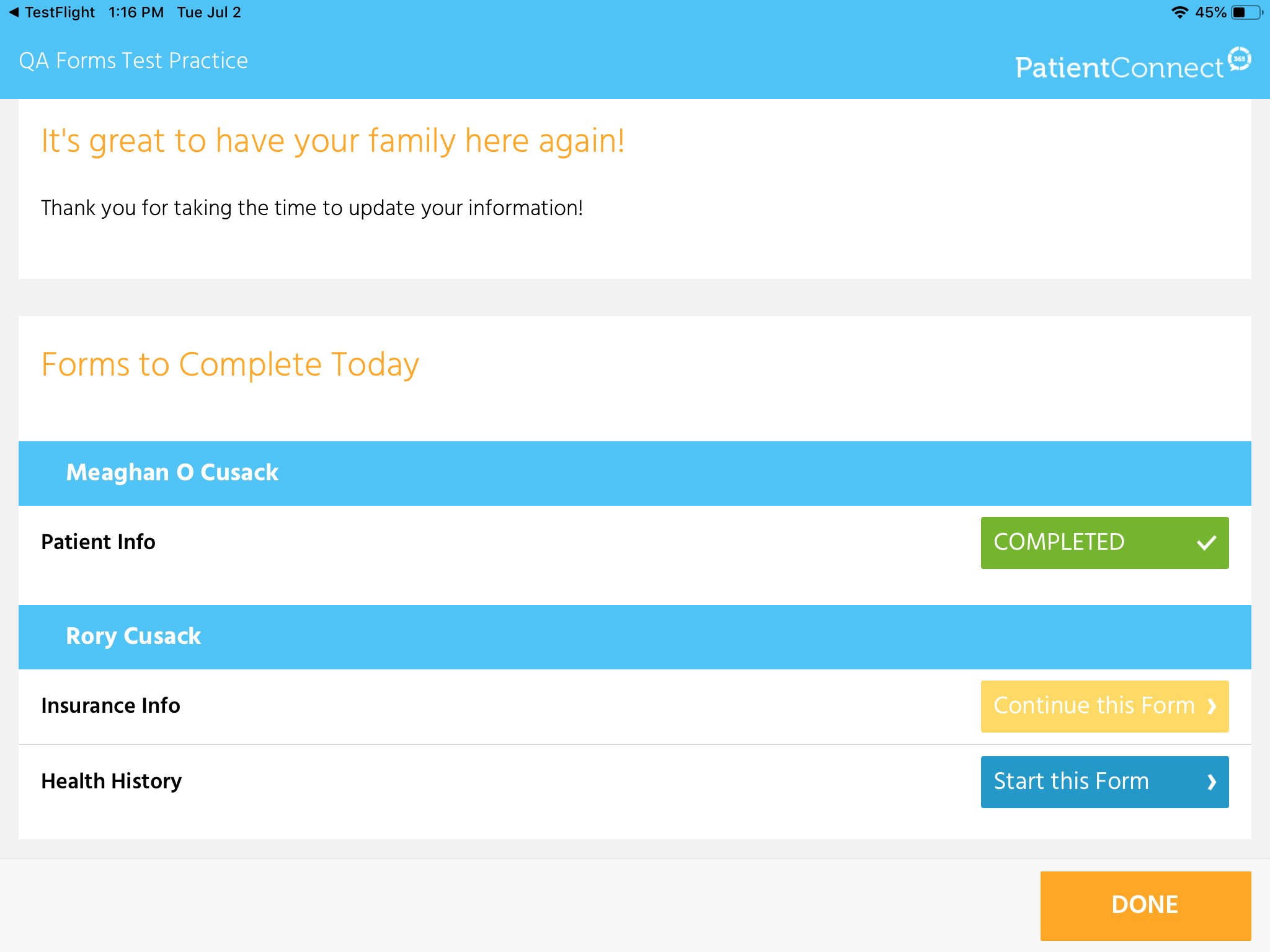 "It's great to have your family here again!
Thank you for taking the time to update your information!"
Under "Forms to Complete Today" the patient will see the names selected in the group and the forms selected for each member of the group: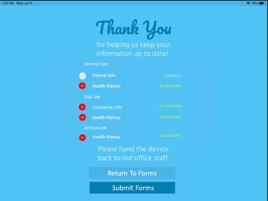 Check out our tutorial video below for a quick walk-thru!