RevenueWell Payments provides an effective and immediate way to collect online payments and reconcile them to your ledgers.  This feature, in partnership with WePay, requires no set-up or monthly fees, and provides online payments at a rate competitive to the rest of the industry.
Other benefits include:
Simple pricing at 2.9% + $.30 from any debit/credit card used for payments (more on this below)

Patient payments are automatically approved and processed

Integration into your RevenueWell suite

Processing fees fully returned for fully refunded transactions

No additional PCI compliance fees
And even more features to come!
Top Features of RevenueWell Payments
The Payment Alerts and Payments Tab offer an effective way to be notified about patient payments as well as to reconcile them manually with your patient records in your practice management system.  For every payment received, you will be sent an alert in RevenueWell with a link back to the Payments tab and, if you have email notifications on, you will receive an email notifying you of the new payment.

Payment Alerts show in 3 places:
As a browser notification (depending on if you've allowed notifications)

In the Alerts table on the Home tab
In the "Today's Items" under Pending Payments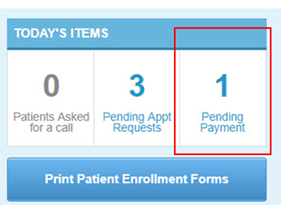 Payments Tab: this tab includes all the information you need to reconcile the information against the your patient's records.  The amount shown is the gross amount paid by the patient and the "Successful" status means the payment is complete and the practice has the amount.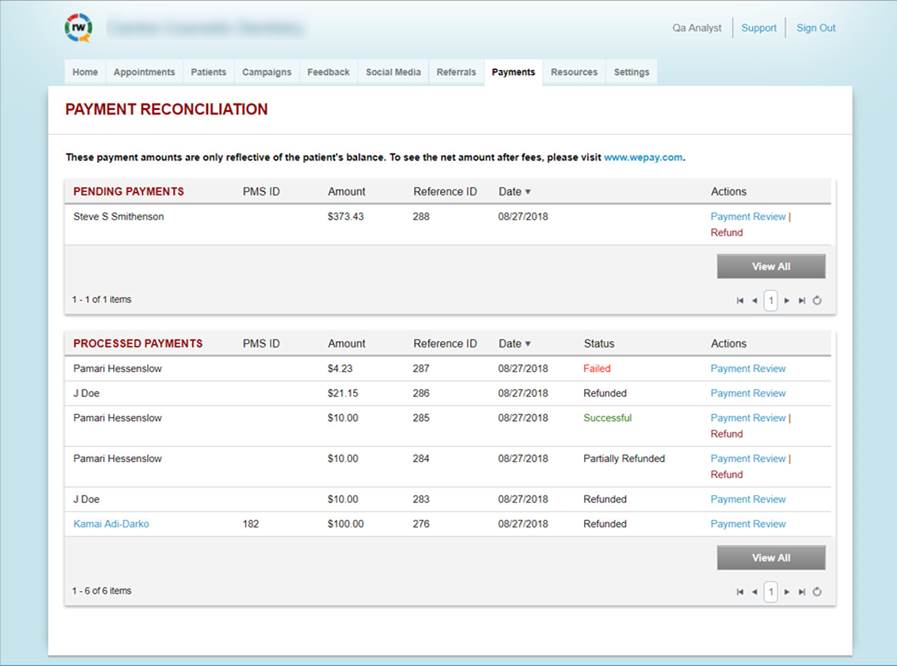 For reconciling your banking information, it's recommended that offices go to www.wepay.com and log in to the Merchant Account (NOTE: You can only sign up for RevenueWell Payments via the Payments tab, not at the WePay website).

Patient Payment Link: RevenueWell offers a link that you can use on your website, on invoices, or other communications that will land patients to where they can make a payment.
Ways to use this link:

Provide this link to your web developer to add a "Pay Online" button for your practice's website.


Add the link onto invoices:

If you can edit the text of the invoice, simply copy and paste the link

If you outsource the invoicing, email a request to your provider to add the payment link

Add the link to your remit within the return address information: 

"To make a payment online..."
Settings > Payments > Preferences > Web Link: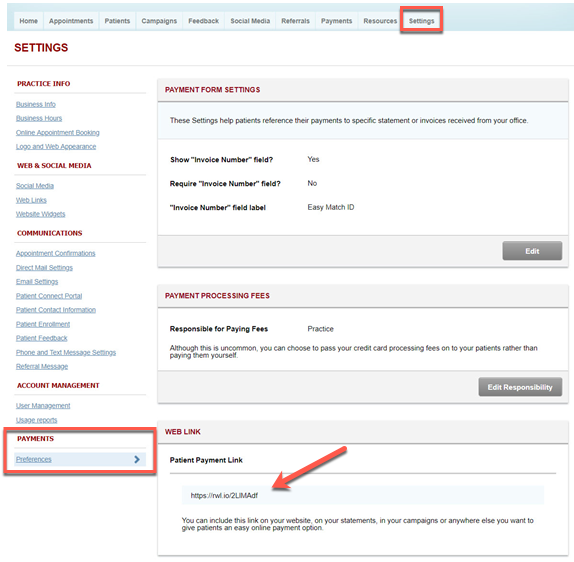 Easy Refunding: If a refund is necessary due to mistakes or adjustments that result from insurance changes or other reasons, a practice can easily refund either the full amount or a partial amount.  In this respect, RevenueWell Payments offers two unique benefits:
Most processors do not permit partial refunds

If a full refund is necessary, the full fee amount is refunded to the practice or patient. Many processors still charge a fee to do this.
On the Payments Tab, refunds will be available on any payment for up to 60 days:


Optional Convenience Fee: Some practices may prefer to pass the convenience fee onto the patients, as offering a way to pay via credit card online is a courtesy. To adjust the responsibility of the fee, take the following steps:
Settings > Payments > Preferences > Payment Processing Fees > Edit Responsibility

Online Payments vs. Keyed-in (aka Card-Not-Present) Payments
In most cases, keyed-in transactions come at a higher cost of .1 to .8 or more basis points when compared to online payments; this is an even higher cost when comparing to swiping the card.  This may not seem like much on the surface, but this can be an incredibly large dollar amount over time!
Take this scenario of a practice without online payments, but collects $10,000 in payments a month from remit slips or over the phone:
Keyed-in Payment: $10,000/mo. x 3.7% = $370/mo. 

Annualized cost of $4,440
If the practice instead directed their patients to the PatientConnect365 payment link, they would see a reduced annualized cost to take these payments:
Online Payment: $10,000/mo x 2.9% = $290/mo. 

Annualized cost of $3,480
A possible savings of $960 a year provided the fixed costs are held constant ($0.30 per transaction).

Other benefits of taking online payments include:
Patients receive confirmations immediately

Immediate approval means no possibility of submission error
If you would like to better understand where RevenueWell Payments falls versus other major online payment providers, please see the chart, below:

(Source: https://www.codeinwp.com/blog/paypal-vs-stripe-vs-authorize-net-vs-amazon-payments-for-wordpress/)