Video Tutorial
Why RevenueWell Payments?
RevenueWell Payments provides an effective and immediate way to collect online payments and reconcile them to your ledgers. This feature, in partnership with WePay, requires no set-up or monthly fees, and provides online payments at a competitive rate.

Public Payments Web Link: This link allows patients to make payments online. To access your Patient Payment Link, follow the path below:
Settings tab > Payments >

Preferences > Web Link:


Easy Refunding: On the Payments Tab, refunds will be available for up to 60 days. If a full refund is issued, the processing fee is refunded. To issue a refund, follow the path below:
Payments tab > Processed Payments > Actions > "Refund" > Confirm details > Enter Refund amount > Click "Refund" to issue refund.
Convenience Fee: To adjust the responsibility of the fee, take the following steps:
Settings tab > Payments > Preferences > Payment Processing Fees > Edit Responsibility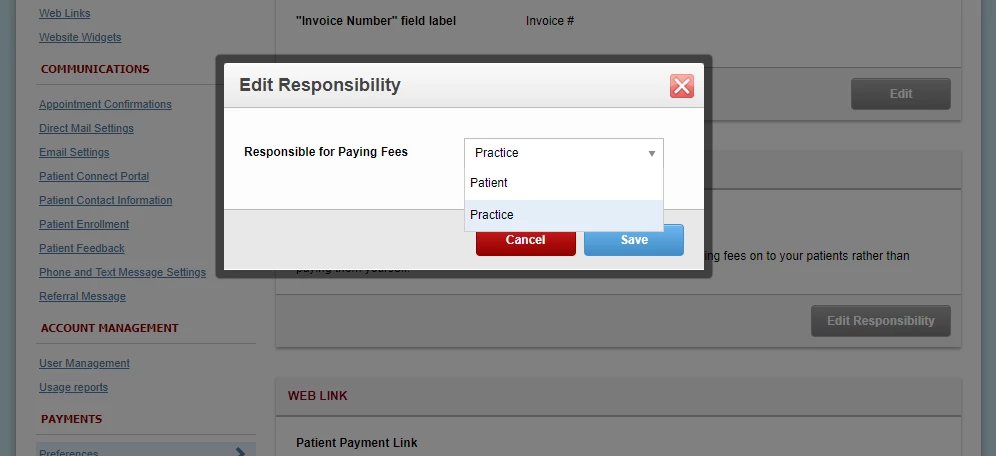 1. Go to the Payments Tab and select "Enroll Now":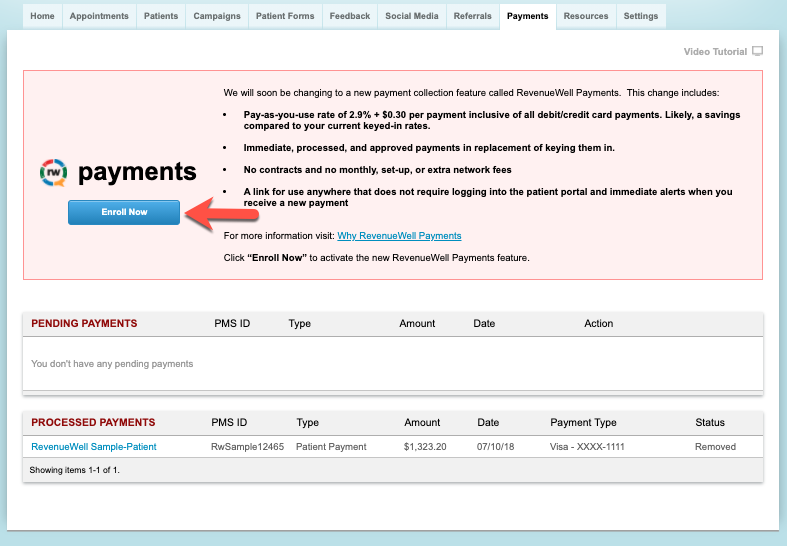 2. Start the sign up process:
If you already have a WePay account, follow the

"Log in" prompt

:
3. Enrollment completion with WePay:​
​You will receive an email to verify and complete the enrollment.​

Complete WePay's "Know-Your-Customer" (KYC) form which includes:

Authorized contact information

Business contact information​

Banking information to be associated with the WePay account

Tax/EIN information​

For assistance with setting up your WePay account, contact WePay support here.
4. To understand the patient experience of submitting online payments, check out this Help Center article.
RW Payments FAQs
| | |
| --- | --- |
| How much does this cost? | We offer an industry-leading transaction fee of 2.9% + $0.30, and there are no other signup or subscription fees |
| How long until the payments begin settling in my bank account? | First, make sure you've provided WePay with your banking information. Then, transfers are made daily and can take 1-5 business days to settle depending on your banking institution. If your practice banks through Chase or another large institution, it may take only hours. |
| Will the new payment feature automatically update my patient records? | Yes, if you're using Eaglesoft the patient record will update automatically. If you use a different PMS, you'll want to review your incoming payments and update the patient's record accordingly. |
| Can I do refunds? | Yes, you can issue a refund within 60 days of payment. As an enhancement, you can now even issue a partial refund. |
| Is there a way to collect payments without using the Patient Portal? | Yes, visit your Settings to copy a link you can share in your campaigns, Forms, and website, or directly with a patient you're communicating with. |
| Can I send billing statements through RevenueWell? | Once you've created a patient's statement, you can upload it to the Patient Portal. You can also able to create a custom campaign that targets patients with a current balance (look under advanced options to find the patient balance filters). |
| Can I provide financing through RevenueWell? | Yes, you can learn more about what is available to your patients by reviewing what we offer with Care Credit! To learn more, click HERE! |