A Closer Look: Last Week's Treatment Activity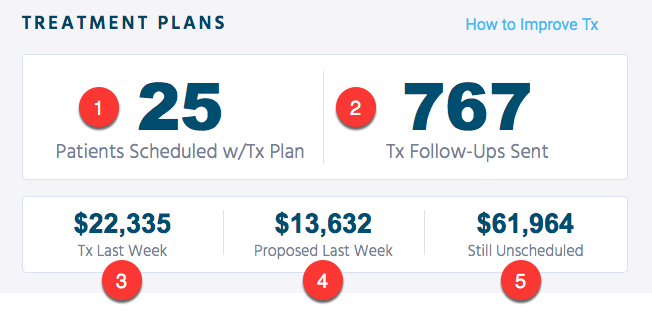 (1) Patients Scheduled with a Treatment Plan: shows how many patients were scheduled for an appointment last week that have procedures outstanding as part of a treatment plan.
(2) Treatment Follow-Ups Sent: shows how many messages RevenueWell sent for you as part of our Treatment Plan Follow Up automatic communication.
(3) Treatment Last Week: shows the total dollar value (based on treatment plan item fee) of procedures performed that were part of treatment plans last week.
(4) Proposed Last Week: shows the total dollar value of procedures you proposed to patients via treatment plans last week.
(5) Still Unscheduled: shows the total dollar value of treatment plans for patients where no appointment has been made yet for treatment that was planned within the last 18 months.
5 Things you can do to get better at this:
Create and maintain a treatment plan for each patient in your practice management software.You'd be surprised at how many practices we know don't have a consistent process for this. Make sure the plan is marked "proposed" or "accepted" for RevenueWell to follow up if no appointments are scheduled. If you need help setting up Treatment Plans in your practice software, give their support team a call. It's an easy thing to configure.


Activate all 5 attempts of RevenueWell's Treatment Plan Follow-Ups Campaign. One or two attempts is almost never enough. Your patients are busy people too, and they forget to act on the first email, text or postcard you send them. Today's marketing science suggests an average consumer needs 5-7 "touches" to do what you want them to do. Your patients are no different. Don't rob your practice of this production opportunity. As long as the patient has at least one appointment scheduled towards treatment they won't get another reminder.

**If you're worried about multiple treatment plans being followed up on, RevenueWell has you covered. And when you activate the campaign, messages will only be sent as far back as your longest attempt.


Activate the direct mail option for your treatment plan follow-ups campaign. Although it costs some money to send postcards, the cost is much lower than sending traditional laser post cards – and you can set RevenueWell up to send direct mail only to patients who can't be contacted electronically. Further, you can set a monthly direct mail budget for the Treatment Plan Follow-Up campaign to make sure we never contact more patients than you want. Ultimately, though, the direct mail option pays for itself by eliminating the need to manually contact patients or, worse, having them slip through the cracks of your treatment follow-up program.


Customize the messaging of your treatment plan follow-up campaign. While patients appreciate the defaulted information sent with RevenueWell's templates for unscheduled treatment, you may want to personalize the messaging, so it resonates with your specific patient base. Just remember that patients appreciate the enclosed financial and educational information to make an informed decision on proposed treatment.


[Advanced] Don't forget you can also send a one-off Campaign to patients with unscheduled treatment. One of the most potent features of your campaign designer library, is the ability to send pre-built educational and promotional messages to specific groups of patients based on their treatment history, insurance, and a host of other factors. You can even filter the message down to patients who have completed their 1st phase of treatment but haven't completed the remaining phases. How about that for target marketing! If you need help setting up one of these campaigns, please contact our Customer Success crew.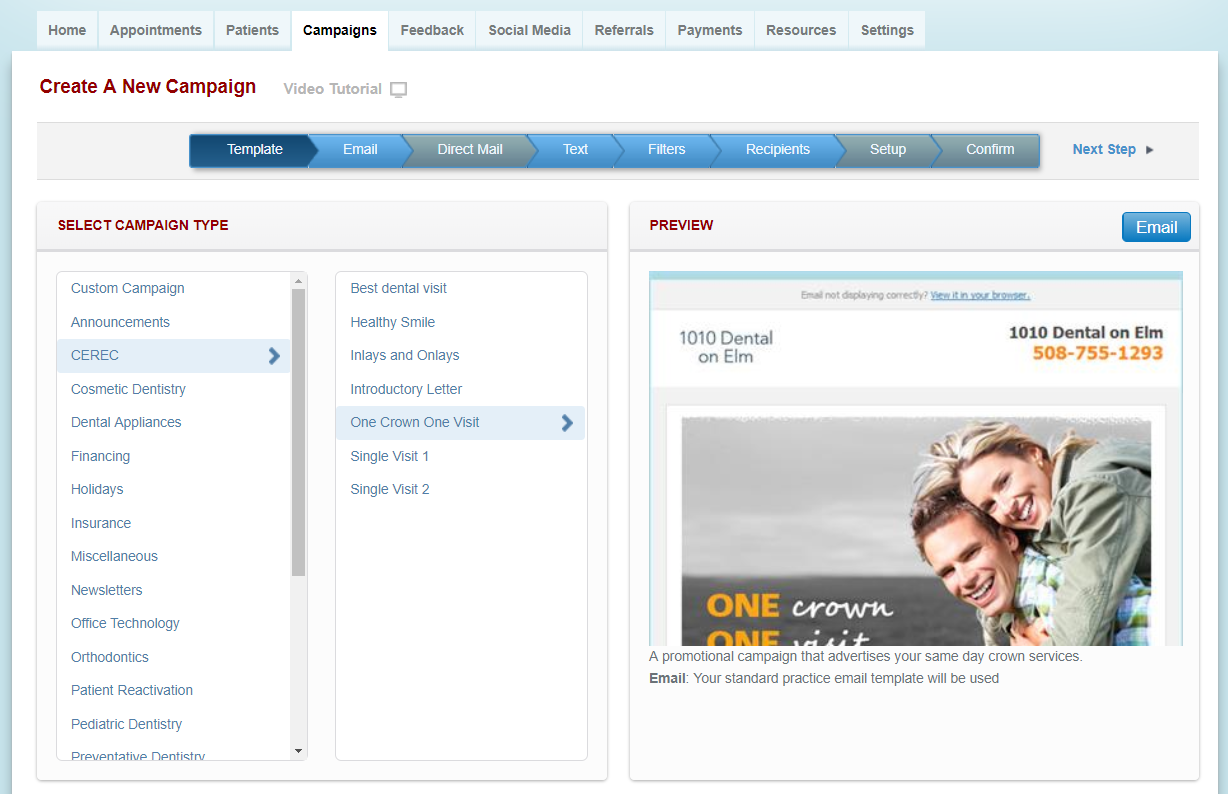 Here's a quick video by a national trainer and dental office manager, Laura Hatch, on why you should give it a shot!