A Closer Look: Last Week's Feedback Activity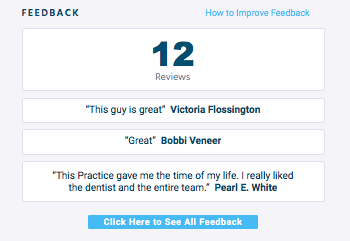 12 reviews were received last week
3 of your reviews will be displayed on the report with an option to "See All Feedback."
5 Things you can do to get better at this:
Provide a great patient experience every day. Today, it's not only about the dental work that is being performed, but about the entire experience the patient receives when they first walk in the door, throughout the visit, and as they finish their appointment and drive home. In this competitive market it's vital to constantly improve your yourself and delight your patients within all roles at the practice. What separates you from the rest of the competition?


Activate RevenueWell's Review & Survey Request. If you haven't tried asking for your patients' thoughts on their visit you should. Most of the time they love to share but need a reason and easy way to do so. You can always grab some survey responses for internal use only, but reviews are the way to go to increase your SEO and attract new patients.


Allow patients to submit Public Reviews. This is widely debated topic but becomes simpler when looked at through the right lens. If you haven't created public profiles on sites like Google, Yelp, or Facebook you should definitely do so as it's free and relatively easy. Drop the links into RevenueWell and you are done. From here, it's recommended to allow patients to leave reviews on these public pages when they click the "Review Request" email. These reviews carry more "weight" as it pertains to increasing your SEO which allows prospective patients to see that you are a "real office" with a mixture of mostly good feedback and the occasional poor review. Remember, you can and should respond to reviews to thank your patients for their thoughts as well as publicly rectify any poor experience that is shared. To provide some comfort, we see an over 90% star rating across our practices so there is a pretty low chance of receiving a negative testimonial.


Share the testimonials with other current and prospective patients on the web. On top of helping gather feedback with RevenueWell, you can automatically share the positive testimonials through your personal Microsite by featuring your reviews and installing a website widget. These are fantastic ways to showcase what your patients think about you to attract new patients that are searching for a dentist.


[Advanced] Switch it up with a one-off Campaign to asking patients to share their feedback. There's a couple of specific "Review Us" campaigns ready for your customizations before sending targeted groups of patients or the entire base if you so choose. It can be a great way to share your philosophy about desiring patient feedback as you continue to serve your patients and their needs year in and year out. If you need help setting up one of these campaigns, please contact our Customer Success crew.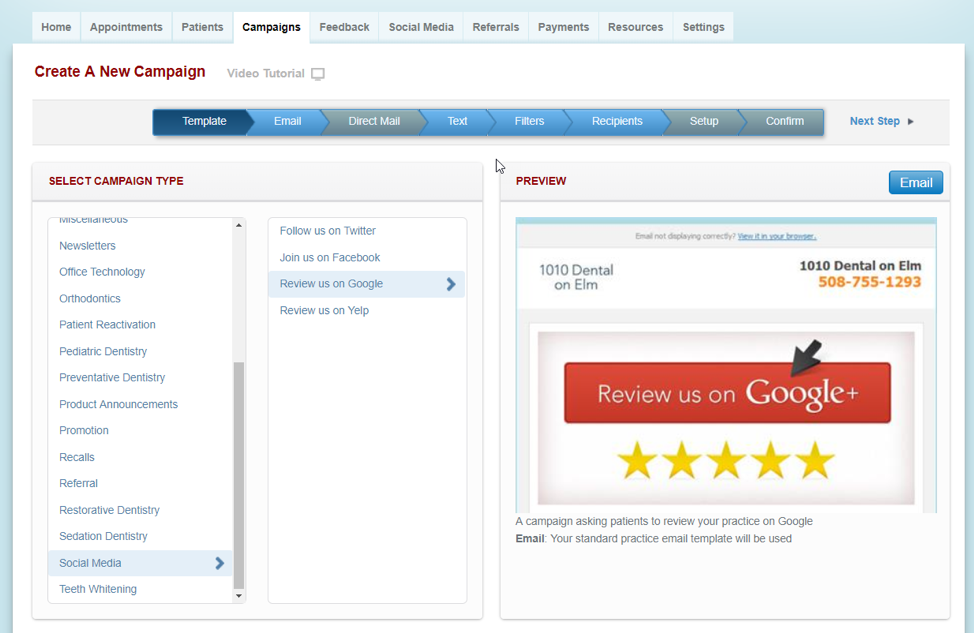 Here's a quick video from an amazing office manager that explains why online patient reviews could be a huge driver of growth at your office!