A Closer Look: Last Week's Recall Activity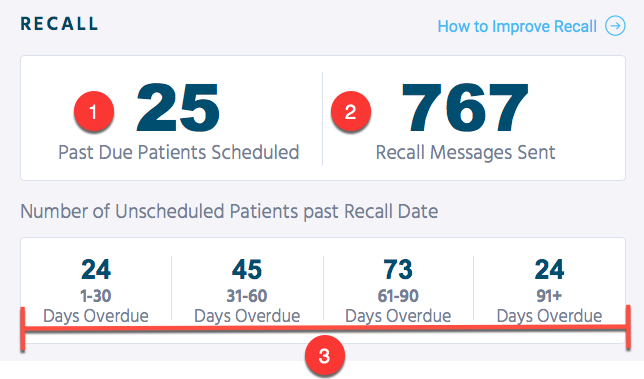 (1) Past Due Patients Scheduled: shows how many patients that were past their recall date without an appointment that you were able to schedule last week.
(2) Recall Messages Sent: shows how many messages RevenueWell sent for you in either Recall or Reactivation automatic communications last week.
(3) Number of Unscheduled Patients past Recall Date: shows how many patients do not have an appointment and are past their recall date. In the 91+ days bucket, we begin excluding patients that haven't been seen in 18 months.
5 Things you can do to get better at this:
Pre-schedule every patient for their future visit when you see them

. We know it's pretty basic advice, but you'll be surprised how many practices we know don't have a consistent process for this. Once you have, make sure you have a solid

Appointment Confirmation process configured so these

appointments don't sneak up on patients 6 months from now.




Make sure that every patient is set up on Recall in your practice management software

. In other words, every patient you have should have a date in their

Next Recall Date field filled out. Otherwise, neither RevenueWell nor a manual process will bring these patients back. If you need help setting up Recall types in your practice software, give their support team a call. It's an easy thing to configure.


Activate all 5 attempts of RevenueWell's Recall campaign

. O

ne or two attempts is almost never enough. Your patients are busy people too, and they forget to act on the first email, text or postcard you send them. Today's marketing science suggests an average consumer needs 5-7 "touches" to do what you want them to do. Your patients are no different. In fact, here are some stats from our Recall emails to help prove this point:


          Attempt 1: 40% open rate, 2.6% appoint rate

          Attempt 2: 31% open rate, 3.1% appoint rate

          Attempt 3: 31% open rate, 3.5% appoint rate

          Attempt 4: 27% open rate, 2.8% appoint rate

          Attempt 5: 28% open rate, 2.1% appoint rate

So, basically, 80% of your success in appointing the patient sits with attempts 2 and after. Don't rob your practice of this opportunity. If the patient responds to your first message, then that's the only message they will get from RevenueWell.



Activate the Direct Mail option for your Recall campaign. Although it costs some money to send postcards, the cost is much lower than sending traditional laser post cards – and you can set RevenueWell up to send direct mail only to patients who can't be contacted electronically. Further, you can set a monthly direct mail budget for the Recall campaign to make sure we never contact more patients than you want. Ultimately, though, the direct mail option pays for itself by eliminating the need to manually contact patients or, worse, having them slip through the cracks of your recall program.


[Advanced] Don't forget you can also send a one-off Campaign to recall patients. There's a whole "Recall" category in your campaign designer library, and you can then target these messages to very specific groups of patients based on their treatment history, insurance, and a host of other factors. If you need help setting up one of these campaigns, please contact our Customer Success crew.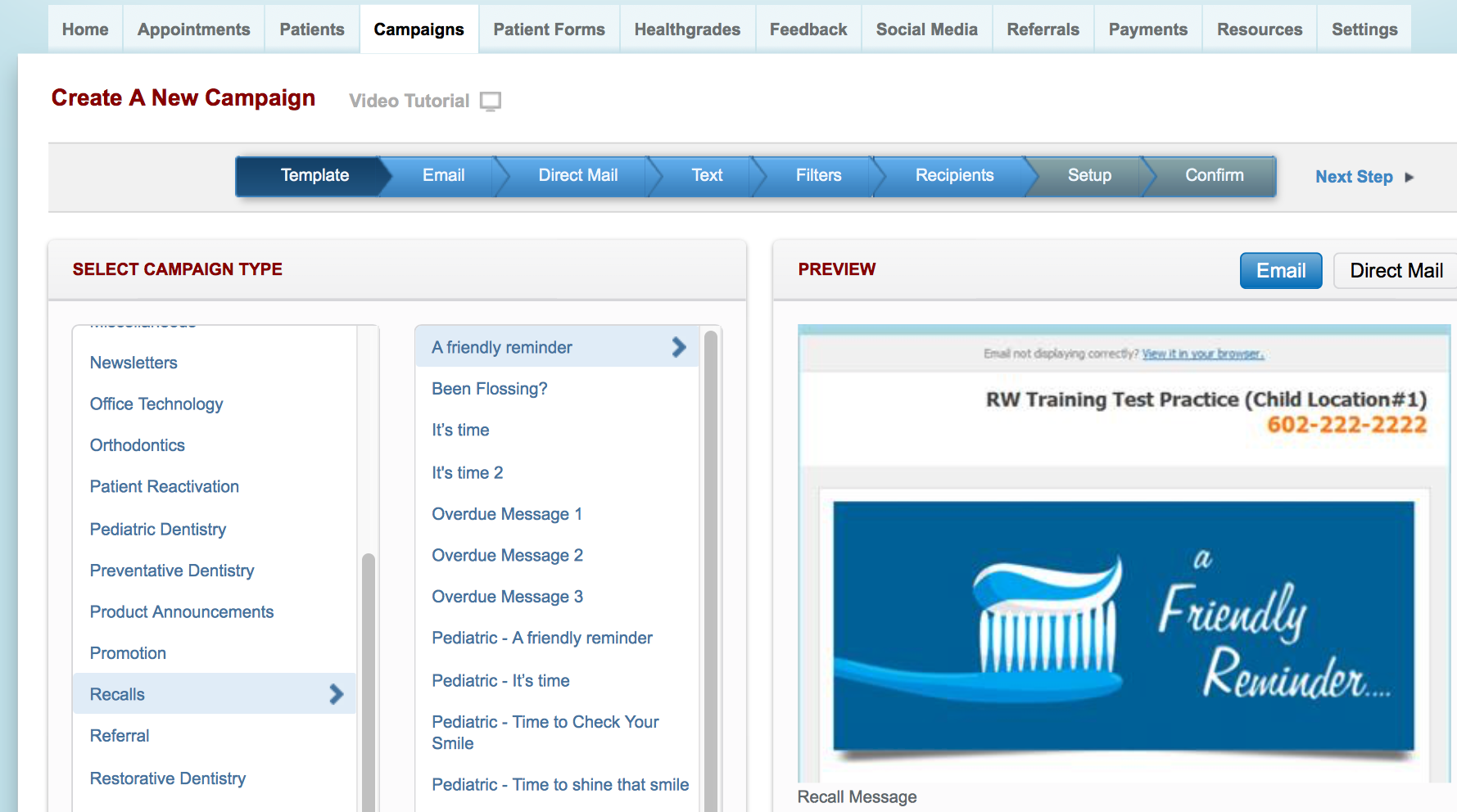 Here's a video on how our power user (and a national trainer) Laura uses the campaign –  and why!