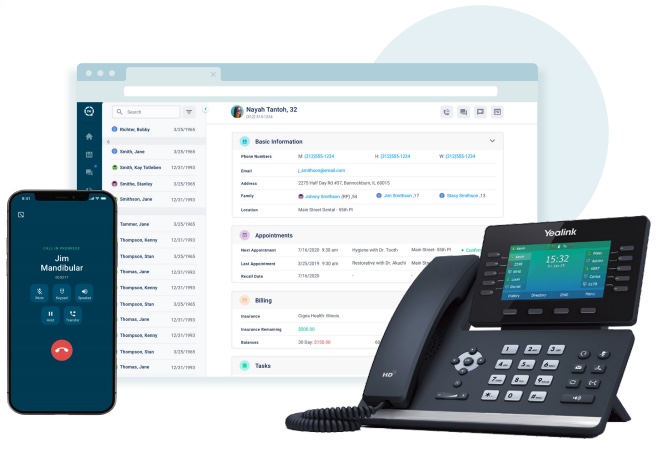 It's time to launch the cloud-based communication hub that will forever change how your practice connects with patients. Once you are enrolled with RevenueWell Phone, initiating the system is quick and easy. Our industry-leading team of technology experts will guide you along every step of the way, but here's a look ahead at what to expect during onboarding

WEEK 1:
Select Hardware: Your enrollment representative will help you select the appropriate hardware for your practice and will place the order for you.

Onboarding Specialist Assigned: Your Onboarding Specialist will become your primary point of contact and support your team throughout the setup process.

Onboarding Kickoff: Your Onboarding Specialist will talk you through the onboarding process, timelines, and review your LOA and pre-configuration form.

Letter of Authorization Completion: The LOA gives RevenueWell legal authorization to request that your phone number(s) be ported from your current carrier to us.

Pre-Configuration Form Completion: This provides RevenueWell with important details about your practice that we will use to set up your new phone system.
WEEKS 2 - 4:
Phone Porting: Porting is simply the process of transferring your phone number(s) from one carrier to another. This happens completely in the background and will be complete in 2-5 weeks.

System Setup & Configuration: We will use your pre-configuration form to set up your system with users, hours, dial plans, and more, and we will review and confirm all settings during a configuration call.

Hardware Delivery & Setup: Hardware will be delivered to your practice within 10 days of ordering, and your Onboarding Specialist will help ensure the phones are properly set up and functioning.

Staff Training: With the hardware in place and the new system configured, we will train staff on how to use the phones and train administrators on how to update settings.
WEEK 5:
Post Setup Call: Two weeks after your practice is up and running, we'll set up a final call with your Onboarding Specialist to make sure everything is running smoothly and address any questions you may have! After this, our Support Team will be your new point of contact and your Onboarding Specialist will provide you with the different methods for contacting them.
Zero Down Time - We keep your phones running during the porting and setup process by forwarding your calls to our own system with a custom code.

We Confirm Your Connection - Once the porting process is complete, our team will test and confirm the new service connection before we turn off call forwarding.